T 700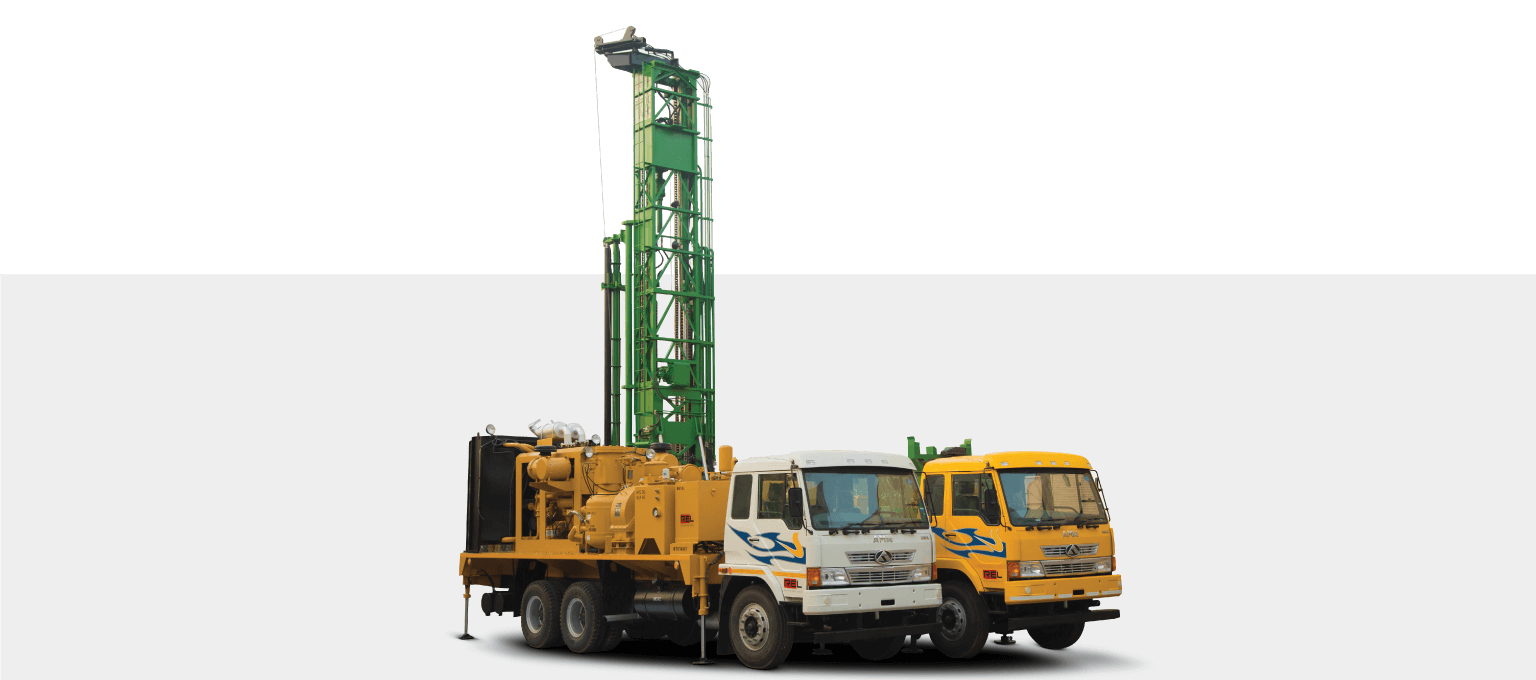 REL is equipped to manufacture drills to perform at the highest of altitudes, lowest of temperatures facing the worst conditions. T 700 assures longevity through the sturdy structure that is put in place with high quality materials, carefully weld to give strength and power.
Operator comfort and safety is also of utmost importance to us. The drill provides enough work space in the cabin and provides improved visibility for easy handling. (Technical specifications missing)
REL also offers dual rotary drill rigs with simultaneous casing capability (from 12" to 40") for drilling in fractured / unconsolidated formations in association with world renowned Foremost, Canada.
REL has attained capability to offer top-drive and table-drive drill rigs suitable for hard rock, unconsolidated, alluvial formations (with depth capability beyond 1000 mtrs) in association with world renowned GEFCO, USA.
SPECIFICATION
Metric
Imperial
Drilling Capacity
Hole Size (DTH / Rotary)
203 to 311 mm
8" to 12 1/4"
Drilling Depth
500 m
1650 ft
Mounting
Two truck carriers (6 x 4)
Mast
Construction
Heavy duty structural steel lattice box type.
Drill Pipe Length
6.10 m
20 ft
Feed
Feed System
Twin chain with twin cylinder pull down
Pull down
14,970 Kg
33,000 lbs
Pull Up
31,760 Kg
70,000 lbs
Rotary Head
System
Hydraulic motor thru gearbox
Torque
14,900 Nm
1,32,000 in-lbs
Speed
0 – 100 RPM
Air Compressor
(on 2nd truck)
Type
Two stage oil flooded screw type
Capacity
32.5 m³/min
1150 cfm
Pressure
34.5 bar
500 psi
Prime Mover
Deck mounted diesel engine
Leveling Jacks
Rear End
Two Nos.
Front End
Two Nos.
Water Injection
Hyd. motor driven
Capacity
30 / 60 LPM
8 / 16 US GPM
Drill Pipe handling
Pipe Loader
Three of six pipes
Pipe dia
114 mm
4-1/2 inch
Pipe Length
6.10 m
20 ft
Controls
Compact control console grouping the controls within easy reach of operator.
Optional Equipment
Mud Pump on (2nd truck) / Hydraulic Welder / Casing Winch etc.