T 650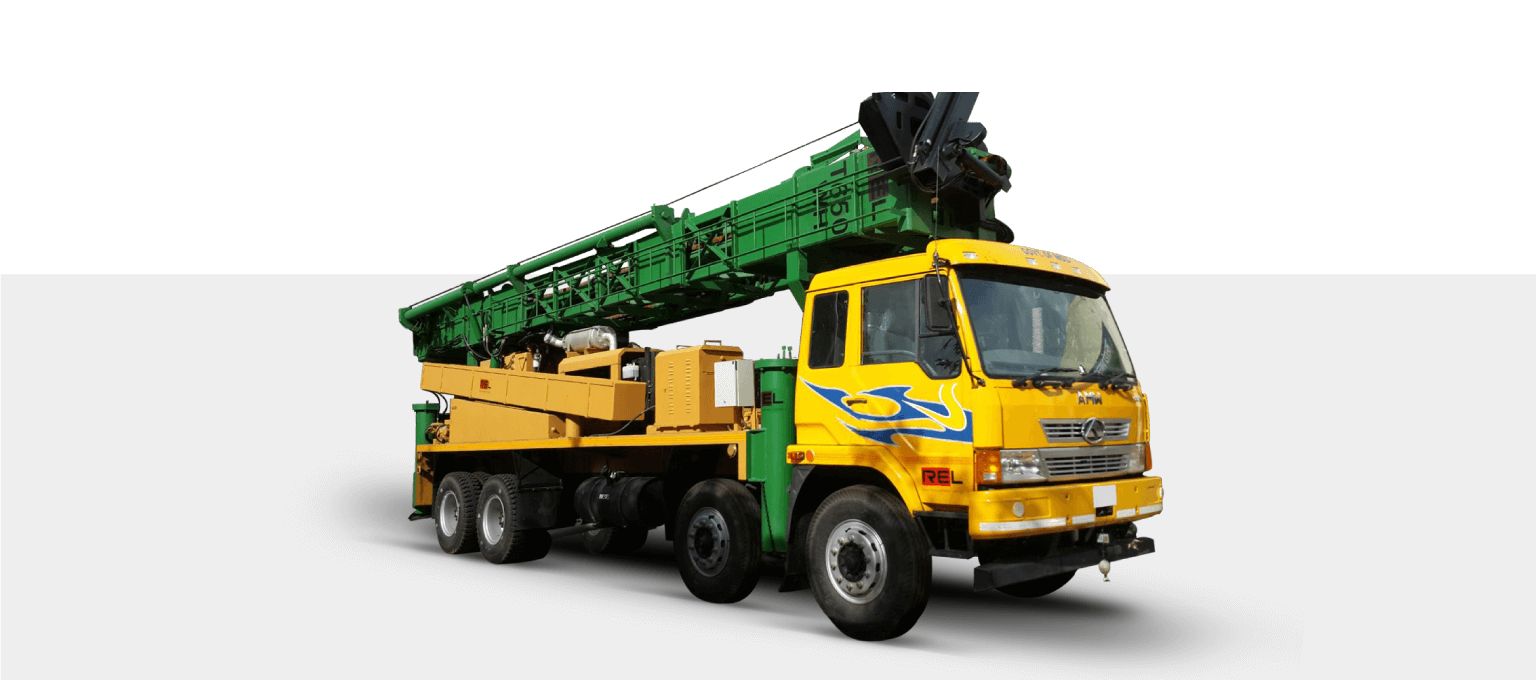 The REL T 650 Water well drill originally designed in the US, Is capable of Down the Hole and Rotary drilling from a diameter of 6 Inch to 12 ¼ Inch to a maximum depth of 300 Meters.
Designed to drill in varying strata formations from soft alluvial to hard rock conditions. The sturdy mast is designed to handle 6 Meter long rods and comes with a six pod carousel for easy loading. Flushing is made possible using 1150/900 CFM – 350 Psi Air Compressor or Mud Pump of suitable capacity.
The Drill is available with standard Hydraulic and Electric over Hydraulic Options.
SPECIFICATION
Metric
Imperial
Drilling Capacity
Hole Size (DTH / Rotary)
152 to 311 mm
6 to 12-1/4 inch
Drilling Depth
300 m
1000 ft.
Mounting
Two truck carriers (6 x 4) and (6 x 4 or 4 x 2)
Mast
Construction
Heavy duty structural steel lattice box type.
Drill Pipe Length
6.10 m
20 ft
Feed
Feed System
Twin chain with twin cylinder pull down
Pull down
13,600 Kgs
30,000 Lbs
Pull Up
9.070 Kgs
20,000 Lbs
Pull Up (OPT)
13,600 Kgs
30, 000 Lbs
Engine
415 HP
309 kW
Undercarriage
Triple Grouser with 450mm width & sufficient rollers
Rotary Head
System
Hydraulic motor thru gearbox
Torque
4520 / 6780 Nm
40,000 / 60,000 in-lbs
Speed
0 – 90 RPM
Air Compressor
(on 2nd truck)
Type
Two stage oil flooded screw type
Capacity
25.5 / 32.5 m³/min
900 / 1150 cfm
Pressure
24.1 bar
350 psi
Prime Mover
Truck engine through Power Take Off (or) by a separate deck mounted Diesel Engine.
Leveling Jacks
Rear End
Two Nos.
Front End
Two Nos.
Water Injection
Hyd. motor driven
Capacity
30 LPM
8 US GPM
Drill Pipe handling
Pipe Loader
Three of six pipes
Pipe dia
114 mm
4-1/2 inch
Pipe Length
6.10 m
20 ft
Controls
Compact control console grouping the controls within easy reach of operator.
Optional Equipment
Mud Pump / Hydraulic Welder / Casing Winch etc.