JSE-listed Basil Read's mining arm Basil Read Mining subsidiary Blasting and Excavating (B&E)has entered into a partnership with India- based original-equipment manufacturer (OEM) Revathi Equipment (REL) to acquire several C650 autonomous drills.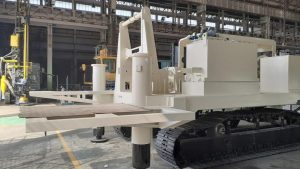 "We are taking a step forward to introduce specialised technology to limit safety risks for our most important asset, our people, at mining operations," Basil Read Mining B&E MD Nathan Williams tells Engineering News & Mining Weekly.
The autonomous drill technology removes operators and assistants from potentially dangerous situations and is a significant break away from traditional drilling.
The drills have been custom-designed to meet stringent safety and efficiency requirements stipulated by the clients. Basil Read Mining B&E will take delivery of the first unit in the first quarter of this year and, once commissioned, will begin trial operations at an opencast mine in Botswana.
"We believe this supports and adds to our competitive offering, as it supports safe and efficient operations when tackling difficult mining operations," says Williams.
Basil Read Mining B&E's plan for 2020, particularly with regard to drilling, involves the development of strategic partnerships with OEMs and control software developers to deliver the first autonomous drill with hole diameters not exceeding 165 mm.
"We believe that this game changer, as with other technology disruptions, demands a change in business structure in terms of organisational, behavioural and procedural, as well as skills and competence aspects."
Basil Read Mining B&E's focus will, therefore, be on ensuring that it manages the change required to transition and structure the business to better leverage opportunities associated with autonomous drilling.
Autonomous drilling has been successfully implemented in countries beyond South Africa, such as Australia and Canada, for larger diameter drill holes of 250 mm or more, establishing a baseline of technical work for others to build on.
Williams says that Basil Read Mining B&E is successfully managing the change from traditional work methods which, in turn, is resulting in the rapid upskilling of staff with complete changes in job descriptions, because working in an autonomous operation requires a different aptitude and set of skills.
These changes do require a high capital investment, but Williams is confident that such investments will be worthwhile.
"We believe that the benefits of autonomous drilling are worthy of the investment, as we will be able to ensure improvements in safety and efficiency at our operations," he says.
In line with this, Basil Read Mining B&E aims to increase its skill sets in the areas of robotics, analytics and information technology.
"Traditionally, we have emphasised mechanical skills, but our electronics skills are getting a renewed focus. "We have deliberately and purposefully moved towards mechatronics, which requires further partnerships with educational and training institutes to ensure that the curriculums are aligned to this objective."
Williams believes that autonomous blast hole drilling is one of many technological initiatives that helps to ensure the company's competitiveness and relevance in the market as a diversified mining service provider.
The company has embarked on a drive to ensure that "breaking tradition" and embracing disruptive technologies are key focus areas.
Basil Read Mining B&E aims to achieve this through training and development, and staying abreast of technology advancement in the mining sector.
A Future in Mining
Although South Africa's mining production output declined in 2019, owing primarily to energy constraints, it is projected to increase slightly in the medium term, since there has been an increase in opportunities through mining companies extending their mining operations or opening new mines.
"We have, however, decided to go against the traditional model of waiting for work to be advertised for tender. "Instead, we are positioning ourselves to grow our business through innovative solution offerings that create value for clients," says Williams.
Autonomous drilling is one of these "innovative solutions", which the company believes will position it as the first to offer such a safe and efficient drilling service in Africa.
The majority of the company's business is conducted inside South Africa, but with this new offering the company positions itself to take part in new opportunities available in the rest of Africa.