C615 D Jack
–
less DTH Drilling Rig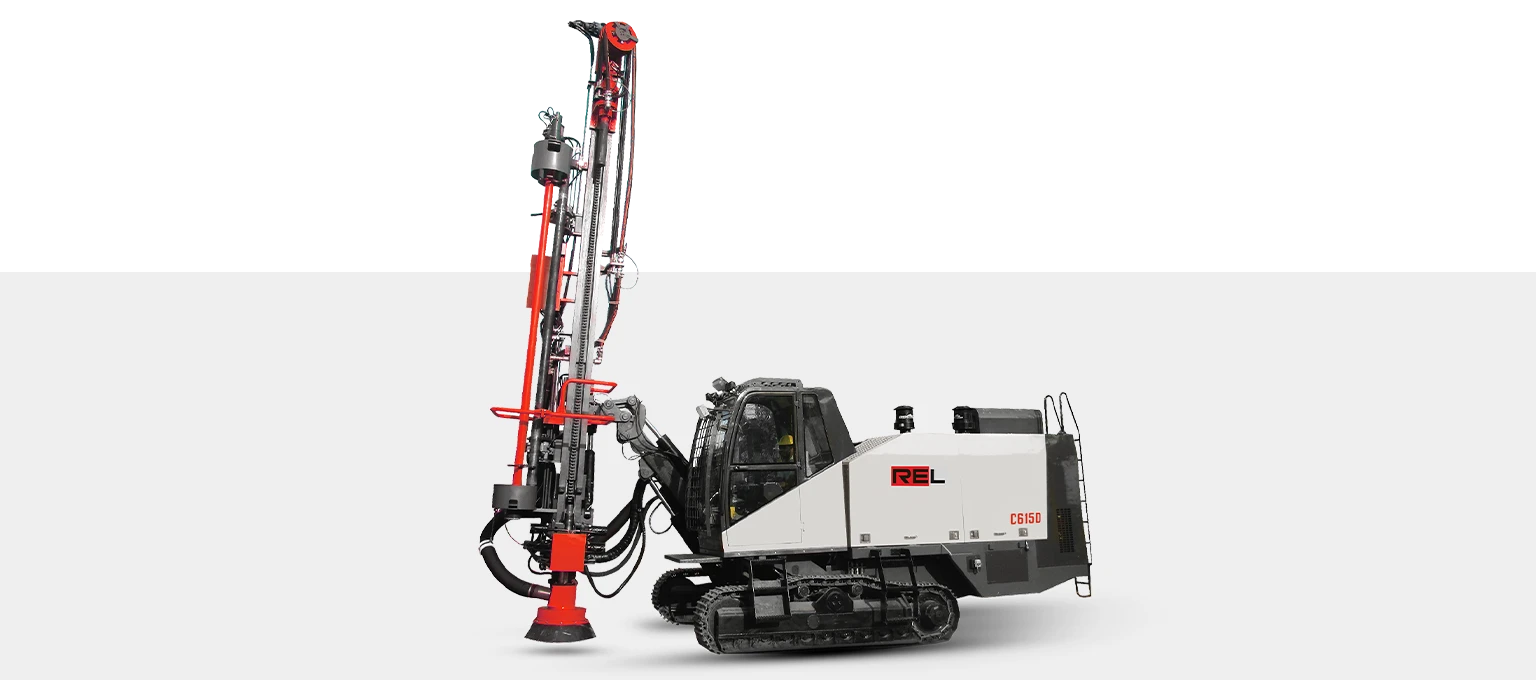 The C615 D Jack-less DTH Drilling Rig is designed to drill holes of 4 inch (101.6mm) to 6 inches (152.4mm) up to a maximum depth of 52.5 ft (16m). Built to drill in limestone quarries, aggregate mines and various construction applications.
The 500 CFM – 200 Psi (14.17 m3/min -13.8 bar) compressor develops the necessary bailing velocity for efficient clean down the hole drilling.
The C615H is optimally designed for higher productivity and efficient drilling in all conditions to deliver maximum results.
Angle hole drilling from 0 to 90 Degrees and improved horizontal, vertical coverage area provides better pre-split, production drilling capabilities with higher spacing burden range.
Engine – Hydraulic bay is designed for easy access to improve serviceability.
The Compact size of the C615 D helps for easy transportation and manoeuvrability in tight corners.
SPECIFICATION
Imperial
Metric
Drilling Diameter
4 to 6 inch
102 to 152 mm
Pipe Size
2-7/8 to 4-1/2 inch
73 to 114.3 mm
SP - Single Pass depth
Mast
13 ft 2 inch
4 m
MP - Multi Pass depth
Mast 3 POD
52 ft 6 inch
16 m
Compressor
500 cfm – 200 psi
14.17 m3/min -13.8 bar
Pull Down Capacity
7720 lbs
3500 Kg
Pull Up Capacity
7720 lbs
3500 Kg
Feed Rate Rapid
77 ft/min
23.5 m/min
Rotary Torque
31000 in-lbs
3502 Nm
Rotary Speed
0 to 90 rpm
Engine / Motor
260 HP
194 kW
Undercarriage
Triple Grouser with 330mm width & sufficient rollers
Ground Bearing pressure
14.5 psi
100 kPa
Speed in slope / Plain
0.6 / 1.6 mph
1.1 / 2.7 km/hr